We're pretty sure nothing says "I love you" more than hot chocolate espresso cakes with a molten centre. To really impress, we like to serve ours with chocolate-dipped strawberries, chocolate sauce, icing sugar and possibly even a scoop of vanilla ice cream. So, why not celebrate Valentine's Day by spoiling your special someone with a dessert made in heaven! Or, if you're single and proud, invite your friends over and share the chocolate love – this recipe for our molten chocolate espresso cakes makes four servings, just in case. Only chocolate and coffee love is true love! 
Ingredients (Makes Four)
70 g unsalted butter, plus more for greasing
200 g dark chocolate (min. 60 % cacao solids)
60 g sugar
2 eggs, organic preferably
1 egg yolk, organic preferably
1/4 teaspoon vanilla extract (or use the pulp of 1/2 vanilla bean)
50 ml very strong CRU Kafe espresso, freshly brewed and cooled. 
50 g all-purpose flour
1/4 tsp baking powder
25 g unsweetened cacao powder
A pinch sea salt
For the chocolate-covered strawberries:
50 g dark chocolate (min. 60 % cacao solids)
1 tsp coconut oil
100 g strawberries
1 tbsp pistachios, roughly chopped
To serve (optional):
Chocolate-covered strawberries (see recipe below)
Icing sugar or cacao powder, to dust
Chocolate or berry sauce
Vanilla ice cream
Method:
Note: If your cakes are served with the chocolate-covered strawberries, start by preparing those.
Chocolate espresso cakes
1) Grease four dessert ramekins with soft butter.
2) Place the butter and roughly chopped chocolate in a bowl over a hot water bath and allow to melt, stirring.
3) Mix the sugar, eggs, egg yolk and vanilla extract (or pulp) in a bowl and whisk until creamy. Add your espresso (we have used our Ethiopian Skakisso Farm blend) and melted chocolate and whisk again until creamy.
4) In a separate bowl, mix the flour with baking powder, cacao powder and salt.
5) Fold the dry ingredients into the wet ones and quickly combine using a wooden or metal spoon.
6) Divide the batter over the prepared ramekins and refrigerate for an hour at least.
7) Preheat the oven to 200°C degrees (fan). Place the ramekins on a baking rack in the centre of the oven and bake the cakes for 15 – 20 minutes, until a wooden skewer inserted to the centre of the cakes comes out moist but the outside of the cakes is dry. Remove the ramekins from the oven and allow to cool for five minutes.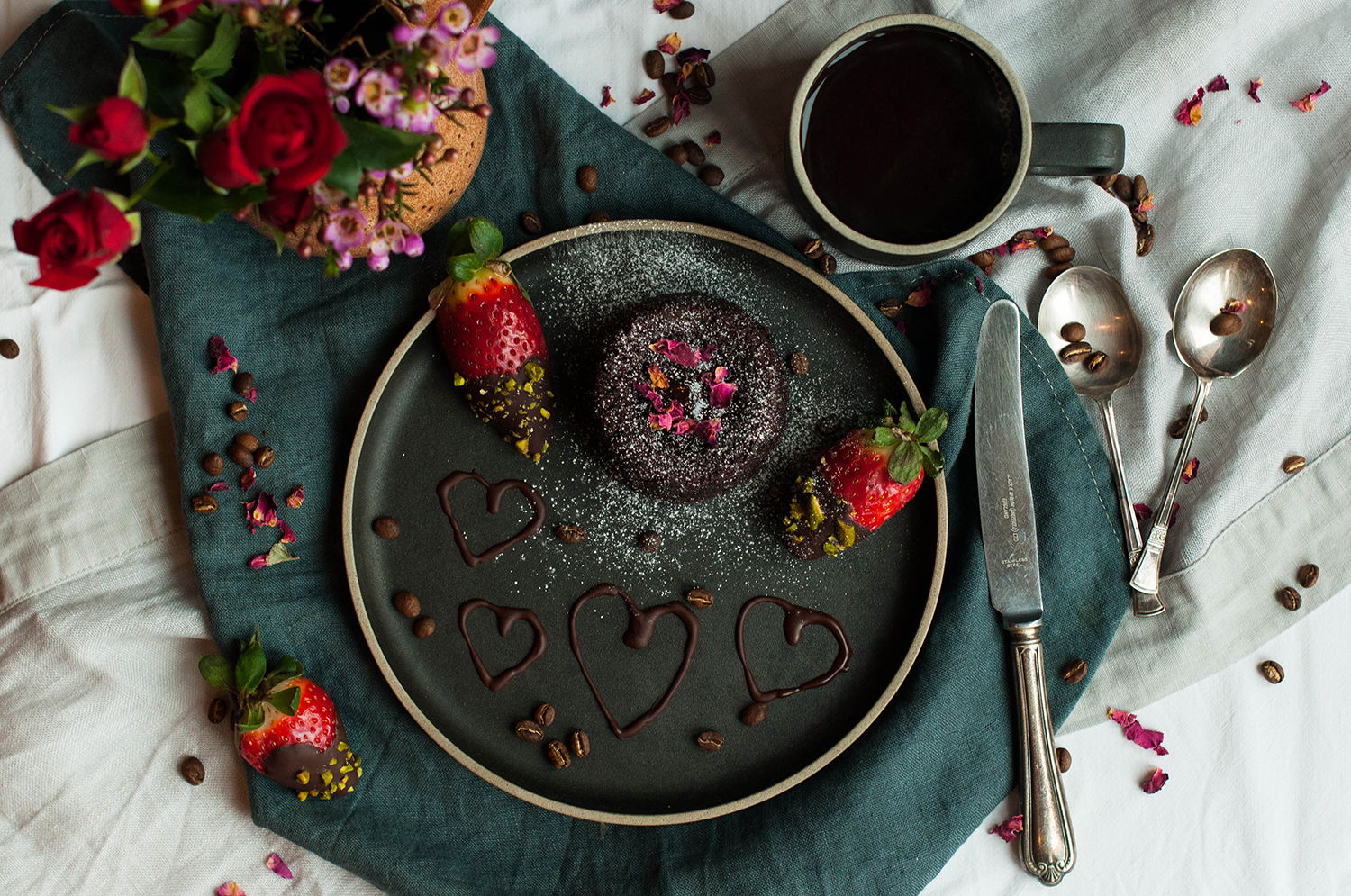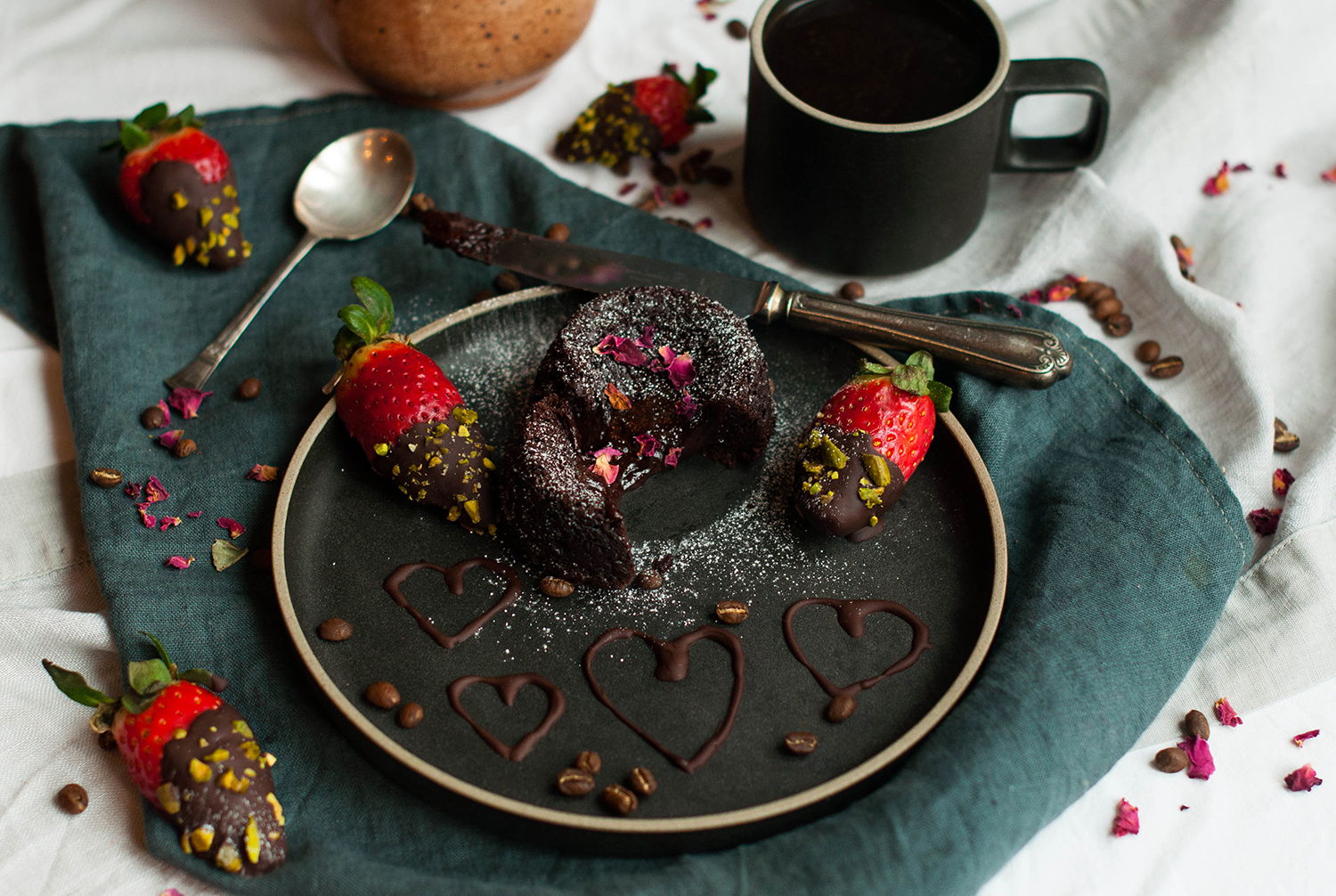 Chocolate-covered strawberries
1) Roughly chop the chocolate. Place chocolate and coconut oil in a bowl, then place the bowl in a saucepan filled with almost boiling hot water, creating a water bath.
2) Melt the chocolate, stirring, until the chocolate and coconut oil are well combined and have a shiny glaze.
3) Wash the strawberries and cut large ones in halves. Dip the berries halfway into the chocolate and sprinkle with a few chopped pistachios. Allow to dry on a piece of parchment paper.
To serve; turn the cakes upside down onto serving plates, garnish with chocolate-covered strawberries and your choice of sauces, ice cream and icing sugar. Happy Valentine's day, and happy chocolate cake munching!
Written by Lea Lou
Recipe artist, food photographer & lifestyle blogger.