Who can resist a soft, fluffy chocolate and coffee muffin which, when torn in two, reveals an oozey, gooey molten middle? These muffins are rich, indulgent and are best served straight from the oven, sprinkled with our crunchy, nutty pecan dust (which also goes excellently with ice cream). This recipe makes 12 large muffins to fit a standard muffin tray. If you're feeling naughty and want to make extra deep, giant muffins you can triple the recipe.
---
100g pecan nuts
1 tbsp freshly gound coffee
2 tbsps muscovado sugar
---
Toast the pecans in the oven for 10 minutes at 160°C.
Once toasted, leave to cool and then blitz.
Combine the pecans with the ground coffee and muscovado sugar.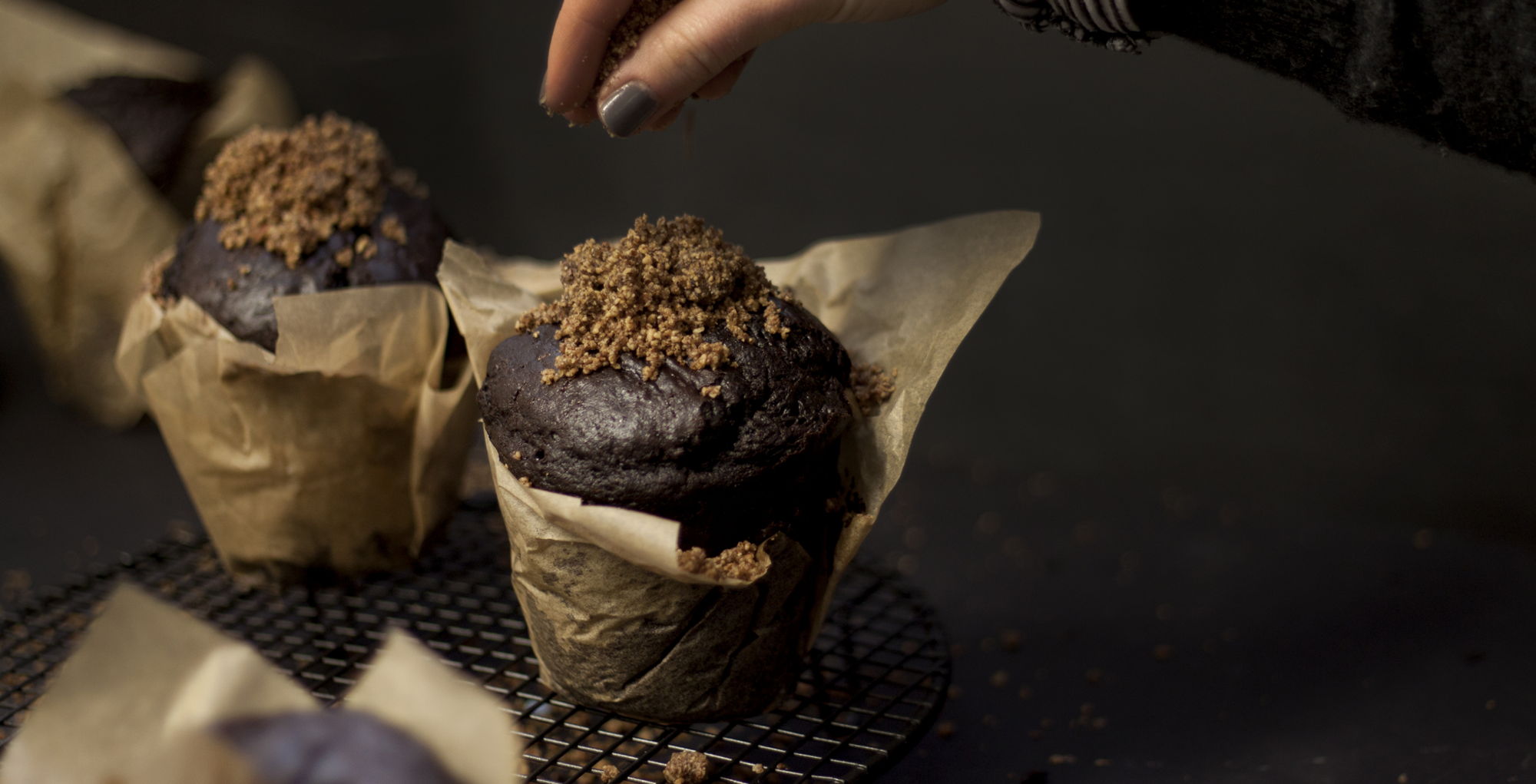 For the Molten Chocolate Muffins
---
150g plain flour
50g coffee flour
50g cocoa powder
1/2 tsp baking powder
1/2 tsp baking soda
175g golden caster sugar
1 egg, beaten
250ml whole milk
60ml neutral oil (I use sunflower, but coconut oil is a good option if you want something a little different)
1 tsp vanilla extract
1/2 tsp salt
12 good quality chocolate buttons (minimum 72% cocoa solids)
Cocoa nibs (to garnish)
Coffee pecan dust (to garnish)
---
Preheat the over to 175°C.
Combine the flours, cocoa powder, baking powder, baking soda and caster sugar. Sift and stir well to mix thoroughly.
In a separate bowl combine the beaten egg, milk, oil, vanilla and salt. Whisk well to combine.
Add the wet ingredients to the dry ingredients and fold in until well mixed.
Place the parchment or muffin cases in the muffin tray and evenly distribute the mixture between them.
Push a chocolate button (2 if you've gone for the giant muffins) in to the centre of each muffin and sprinkle cacao nibs on the top.
Bake in the oven for 20 - 25 minutes.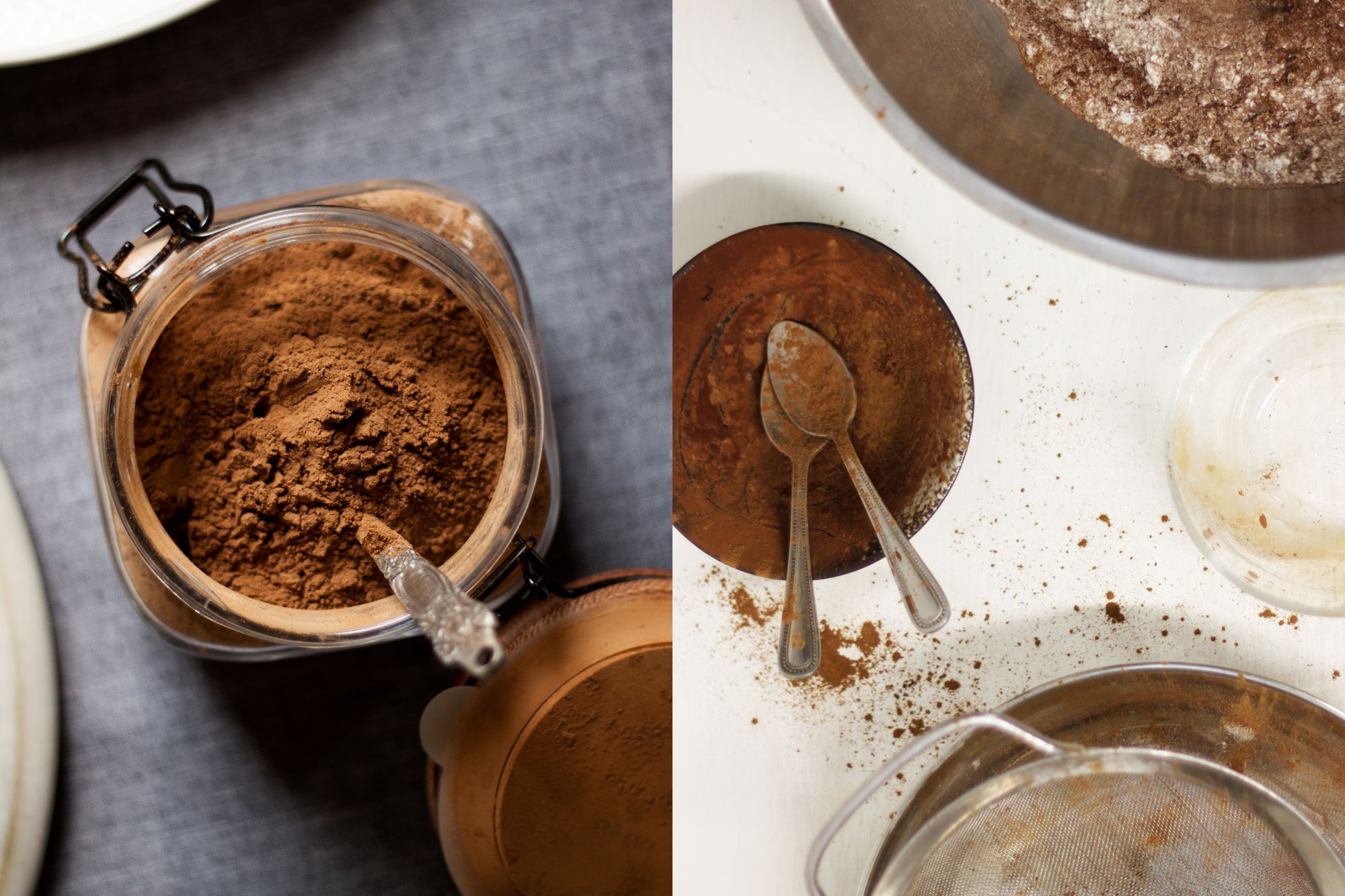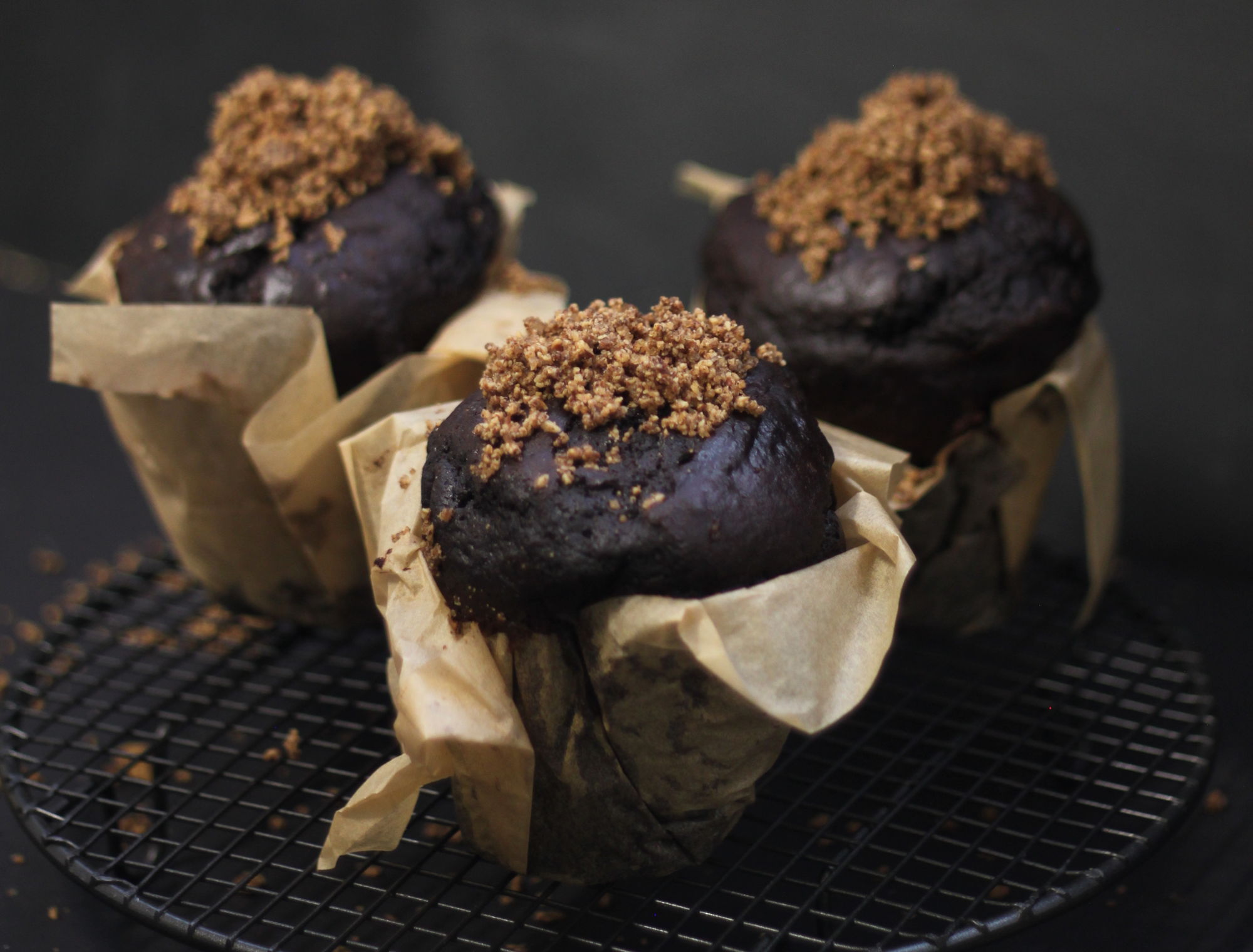 The coffee flour in this recipe is used to add flavour, rather than being a base ingredient. I think that it adds a lovely, fruity depth that works excellently with dark chocolate.
---
---
Made from Dried Coffee Cherries
250g / pack
Coffee flour is made from dried and ground coffee cherries, the fruit that contains the coffee bean. Formerly a waste product that is created during processing and often discarded during the coffee harvest, this nutritious ingredient makes one of the most flavour-rich, gluten free flours.
First time visiting us at CRU Kafe?
Sign up to our newsletter below for more fantastic recipes plus a lovely 10% off your first order!