Mole is a Mexican sauce traditionally made with chocolate and a mix of sweet and spicy chillies. The addition of coffee flour in this recipe balances perfectly with the rich chocolatey flavour. I like to marinate the chicken for a long time to really give the flavours a chance to develop. This results in delicious, moist meat which, when served with the rich and chocolatey mole sauce, creates a glorious dish that is sweet, spicy and full. You can make this in advance and reheat on the day - easy peasy and so tasty!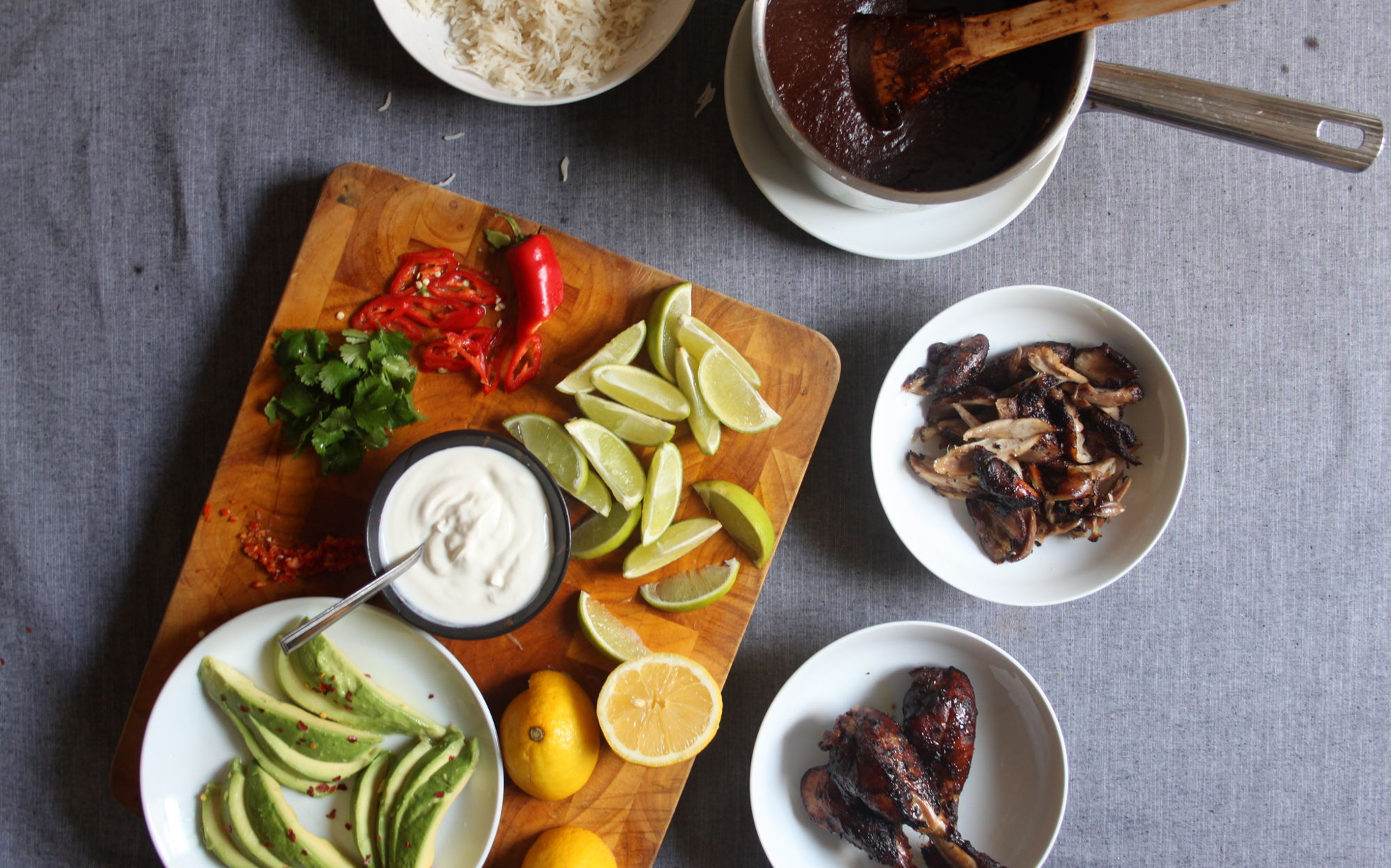 6 chicken drumsticks, skin removed
2 tablespoons coffee flour
1 teaspoon garlic powder
½ teaspoon onion powder
¼ teaspoon cayenne pepper
½ tablespoon salt
2 tablespoons olive oil
2 tablespoons runny honey
First make the rub for the chicken. Combine the coffee flour, garlic powder, onion powder, cayenne pepper and salt and mix well. Place the chicken in a bowl and scatter the rub over the chicken, making sure it is evenly coated. Add the oil and honey and then use your hands to coat the chicken pieces. Cover with cling film and place in the fridge for a minimum of 4 hours or overnight.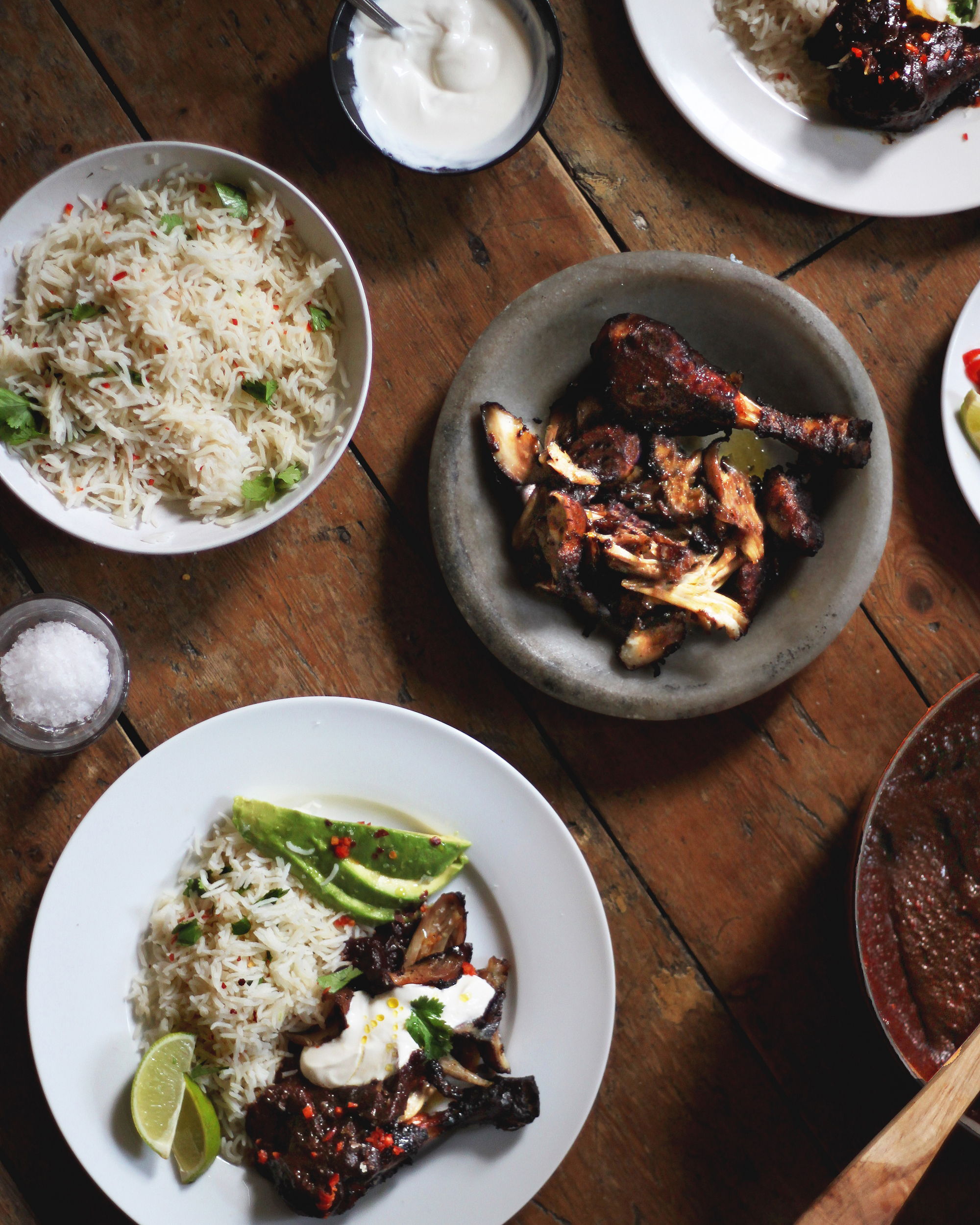 1 dried Ancho chili
1 Cascabel chili
2 Chipotle chili
2 fresh red chillies
4 CRU Dark Roast espressos
500ml water
2 tablespoons of olive oil
1 onion
2 cloves garlic
1 tablespoon Coffee Flour
½ teaspoon ground cinnamon
½ teaspoon ground cumin
½ teaspoon ground coriander
½ teaspoon smoked garlic powder
1 teaspoon dried oregano
2 tablespoons runny honey
50g dark chocolate
50g crunchy peanut butter
4 ripe tomatoes, roughly chopped
Preheat the oven to 200°C.
Put the dried chillies in a small saucepan and cover with 4 espressos.
Halve and finely slice the fresh chillies, then peel and finely chop the onion and garlic.
Place a medium non-stick frying pan over a low-medium heat and add the oil. Add the onion to the pan and sauté for 5-10 minutes, until softened but not browned. Then add the garlic and fresh chilli and cook for a further 5 minutes.
Stir in the coffee flour, smoked garlic powder, cinnamon, cumin, coriander and oregano, fry for 1 minute and then remove from the heat.
Remove the dried chillies from the espresso liquid and discard their stems. Along with their soaking liquid add to the pan with the onion, garlic and spices. Add the water, peanut butter, honey, chocolate and tomatoes. Bring up to a boil and then gently simmer for 2-3 hours, adding more water if necessary.
Remove from the heat and allow to cool. Place in a blender and puree until smooth. Return to the saucepan to reheat before serving.
Place the marinated chicken drumsticks in a foil lined baking tray. Drizzle with a little more oil and cook for 30 minutes, turning occasionally.
Serve drizzled with the mole sauce and with coriander rice.
---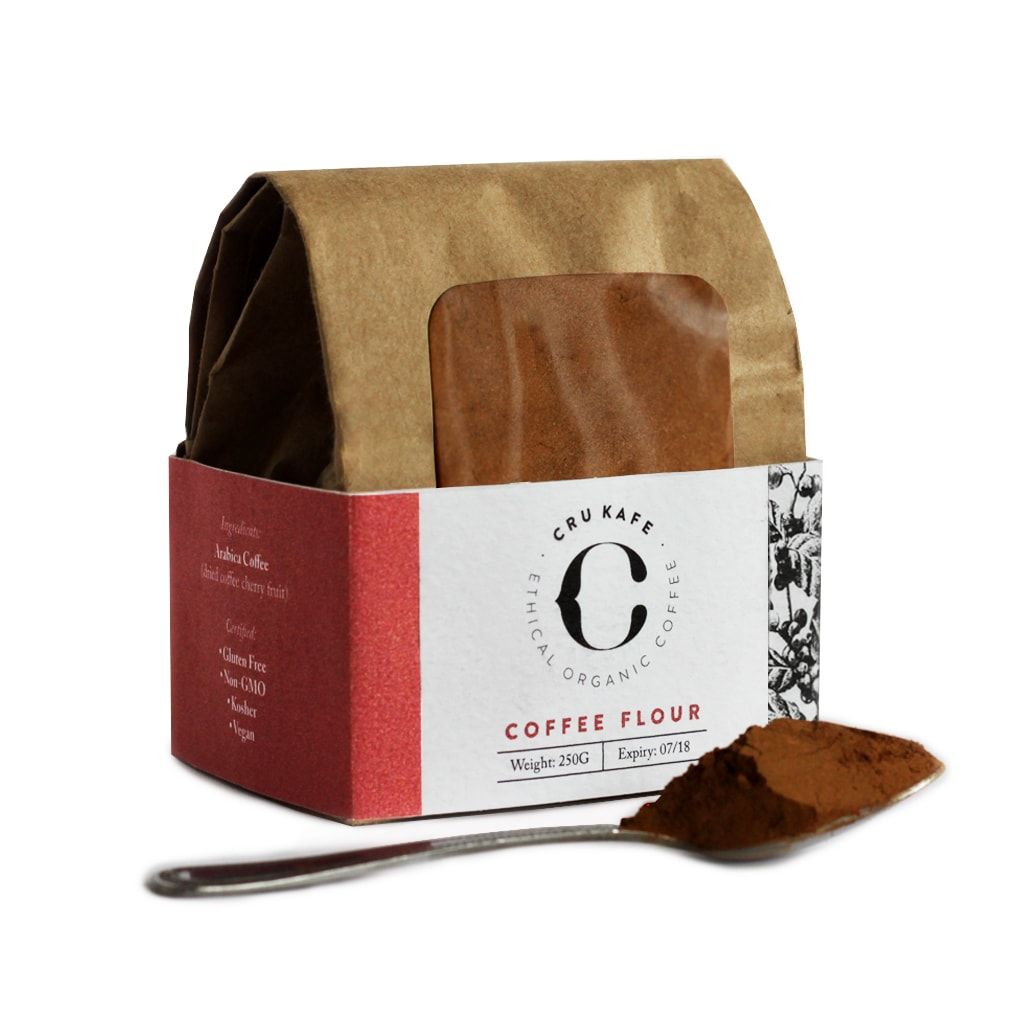 ---
Made from Dried Coffee Cherries
250g / pack
Coffee flour is made from dried and ground coffee cherries, the fruit that contains the coffee bean. Formerly a waste product that is created during processing and often discarded during the coffee harvest, this nutritious ingredient makes one of the most flavour-rich, gluten free flours.
First time visiting us at CRU Kafe?
Sign up to our newsletter below for more fantastic recipes plus a lovely 10% off your first order!