The Coffee or Bean Belt is an imaginary area of land found between the Tropics of Capricorn and the Tropics of Cancer, located roughly between latitudes 25º North and 25º South. The Coffee Belt is home to the vast majority of the world's coffee, however, it does not exclusively grow in this zone. The Coffee Belt encompasses large parts of Africa, Central & South America and Asia and the the climate is largely characterised (and we're slightly generalising here) by rich, porous soils & mild temperatures with lots of rain and shade. In other words, exactly the climate coffee needs to thrive in.
---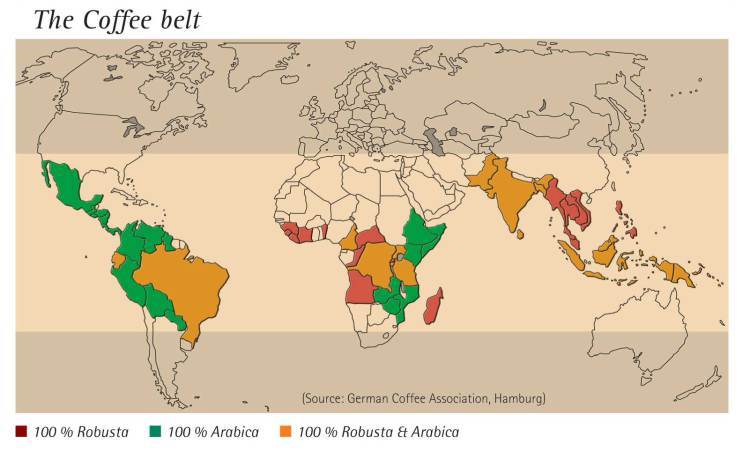 ---
Does each country's location in the Coffee Belt affect it's flavour?
The location in which coffee is grown has a remarkable effect on the coffee's flavour profile and, somewhat unsurprisingly, differs greatly from one continent to another. However, not many people realise how dramatically the profile and taste of a coffee bean can change on a much smaller scale - and nowhere is this borne out more prominently than in Ethiopia, the birthplace of coffee. Home to over 3,500 different coffee varities, Ethiopia is the holy grail for coffee-addicts - a place where you can walk from village to village and taste a range of coffees found nowhere else on the planet. Fiercely proud of this diversity and individuality, mass-production is not really on the agenda - and the only way that we can get our hands on these fantastic beans is (generally speaking) by dealing with the washing stations, who buy coffee direct from small farms.
---
Can coffee be grown outside of the Coffee Belt?
When you look at the best environmental conditions for coffee bean growing, you can see why the UK and other countries outside of the Coffee Belt struggle to successfully harvest a coffee bean crop. Nevertheless, there have been some exceptions to the rule. For example, in 2008 two restauranteurs in Cornwall cultivated the first coffee beans grown in Britain, having been inspired by the coffee grown in the Eden Project.