So, we've just caught up with our adventurers in the coastal city of Santa Marta on the Caribbean Sea. While we envision tales of lounging on the beach and tropical cocktails, John and Colin are more focused than ever on their goal of finding the perfect Colombian single blend coffee. Here's what they've been up to...
Colin: "Arriving in Santa Marta was like landing on an island. As a kid growing up I visited the Caribbean quite often and the city definitely had that tropical feel to it. You instantly felt the heat as you got off the plane. A totally different vibe to Bogotá. Sort of 'Santa Marta by-the-sea' for Colombians."
John: "Of course we weren't in Santa Marta for a seaside holiday, so we headed up the Sierra Nevada de Santa Marta mountain range in search of our prized coffee beans. And that's where we are now."
Colin: "Why here? Well, we'd heard about a plantation that is part of a Cooperative of small coffee producers called Asoprosierra. It belongs to a 78-year-old farmer named Bernardo, who has owned the land since he was 16. We were intrigued, so had to come and meet him..."
John: "Quite a few people warned us the mountain roads were rather treacherous, so we hired an experienced driver to bring us up here to Bernardo's farm. Even so, with a lack of proper infrastructure, a journey that should only take about two hours ended up taking us seven hours!"
Colin: "After that rollercoaster of a drive, I'll never forget our arrival at Bernardo's farm."
John: "Me neither. As Bernardo came forward to meet us and began introducing himself, he started welling up. Then his wife started welling up and then our guide started crying too. But we didn't know what was being said, as our guide was supposed to be translating the conversation, which was all in Spanish! They carried on crying for ages and we were like, "Will someone just tell us what's going on?!""
Colin: "When our guide calmed down and explained what it was all about afterwards, we nearly started welling up too! Apparently, when Bernardo and his wife first set up the farm, they lived in extreme poverty. Which meant they had to survive on almost nothing as they worked to start producing their coffee."
John: "You see, a coffee plant takes about three years to grow and yield any fruit. Meaning that from planting, it can take up to three years to see a return on your hard work. I couldn't help wondering what life must have been like for 16-year-old Bernardo starting his own plantation and having to wait all that time. I don't think we can comprehend the absolute poverty he and his family endured. I mean, what did he earn for three years?"
Colin: "It was so moving. And we could see just how much our visit meant to them.
John: "I didn't quite catch the exact number of years it took, but it was inspiring to hear how Bernardo and Maria managed to work their way out of this horrible poverty. As coffee started becoming increasingly more popular globally, they persevered and thrived."
Colin: "It wasn't just about the popularity of coffee though; it was also about making the move to grow top quality, certified organic and Fairtrade coffee. Bernardo and his wife invested in creating a better quality product and they're finally seeing the returns for their hard work. It has radically changed their lives."
John: "Without that move to quality, Bernardo and his family would not be in the position they are in today. Being here, you really get a feel for how coffee flows throughout their daily lives at the farm. When we arrived, there was coffee drying in one area, cherries composting in another and beans fermenting nearby. Their dogs sleep on bags of coffee and their chickens scratch through the third-grade coffee beans for food. It literally is everywhere - an entire ecosystem on their doorstep."
Colin: "What's also great is how keen Bernardo is to learn from us. He can see the opportunities and wants to know as much about the global coffee market as possible. He told us that he's always looking to improve the quality of his coffee beans as he makes all his money from exporting them."
John: "The fact that they have the support of the Cooperative is also a really important and  positive factor for them. Consisting of 32 members, who are all certified both organic and Fairtrade, it helps facilitate improvements that can drastically change their business. By reinvesting the premiums made from their various certifications, the Cooperative actively helps improve the lives of farmers and their families. Take the roads for example; the road to their farm definitely looked newly cut. Without it, I'm sure it would add an extra hour or two to the already seven-hour journey to his farm. They couldn't have done that without the help of Asoprosierra."
John: "What I've enjoyed most so far has to be the Colombian simple way of life. Walking around Bernardo's farm, I've been blown away seeing everyday staples just growing in the garden. Right here are limes, there's sugar, there's chocolate and over there is coffee. All just naturally growing."
Colin: "And I've been really impressed by how conscious they all are of the environment around them and do as much as possible to leave zero waste. One amazing experience was when John showed them how to create even less waste by baking them some coffee flour muffins."
John: "Surprisingly, they'd never used coffee flour before or even realised that it could be a thing! They've been so kind to us and have welcomed us into their home. So, knowing that we've at least given a little something back is really special."
John: "Another real highlight was that today Bernardo invited us to join him on his coffee plantation. Wow, it was brilliant! Colin and I have talked about nothing else for months, so we were beyond excited to be finally standing amongst coffee bushes on a steep mountain side on top of the world with condors flying overhead. To touch the waxy leaves of the coffee plants, to hold the coffee cherries in our hands and to breathe in the gorgeous scent of the coffee flowers - it was all fascinating and such a great privilege."
Colin: "Completely awesome! When we started CRU, we weren't coffee experts and now we've built this company and are on this big coffee adventure. Seeing the entire coffee process from start to finish was always going to be a big moment for both of us, wasn't it?"
John: "Absolutely. And now we've seen where the process all starts, it's just mind-blowing! The whole day has been full on. Even before the sun rose, we followed Bernardo outside, where he got straight to work, scooping up the cherries that had been sitting there for a day composting in the 30-degree heat and already steaming. Next he pulped the fresh cherries dumped at the end of the previous night before taking us into the plantation to meet the pickers, who hand-picked the ripe cherries."
Colin: "You could ski down the mountain it was so steep! And there was 78-year-old Bernardo, effortlessly gliding up and down…"
John: "...while Colin and I were left huffing and puffing, trying to keep up behind him! The climb was definitely worth it though. I'll never forget that first glimpse of the surrounding landscape - it was truly beautiful."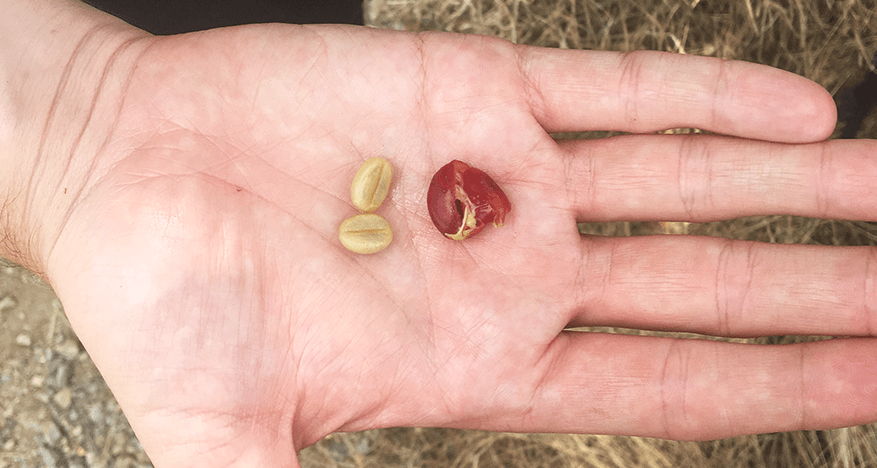 Colin: "Meeting the pickers and hearing their stories was great too. It brought us even closer to the coffee process and showed how much personal effort goes into producing coffee beans."
John: "What I didn't realise was that a lot of the coffee pickers don't live locally to the farm. They leave their families for months at a time and travel to different areas of Colombia, wherever coffee is currently being harvested. Essentially picking coffee cherries all year round to provide a life for their families."
Colin: "And they certainly know how to work hard. Bernardo was telling me that on his farm the pickers can pick up to 17 bags worth of cherries in a single day. That's about 180kg. I don't think many consumers give enough thought to how their coffee ends up in their cup."
John: "Quite. After these guys have picked the ripe cherries, they have to carry them down the mountain to Bernardo's farm for processing, using the 'washed' or 'wet' method."
Colin: "This is one of the most common methods used around the world when it comes to speciality coffee."
John: "So here's how it works. Bernardo uses a pulping machine to remove the outer skin of the ripe cherries. Next, the coffee beans are fermented in water for a few days, then washed and placed in raised trays on Bernardo's roof. After drying in the sun for several days, the beans are de-husked to remove the parchment and silverskin. Resulting in green coffee beans."
Colin: "What happens next? Well, as Bernardo belongs to the Asoprosierra Cooperative, his beans are sent off to the Agroeco Mill in Santa Marta to join beans from all the other farms within the Cooperative for the next part of the process. Working with the Cooperative has a hugely positive impact on Bernardo. For example, it gives him access to an international market that a farm his size couldn't normally support on its own. It also provides resources for him to invest in better infrastructure at his farm to help his business continue to grow."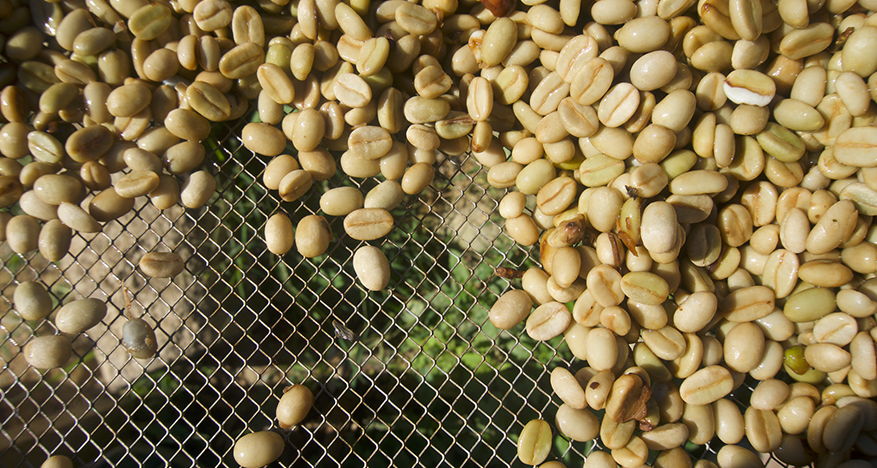 Colin: "Sadly, it's time to say goodbye to Bernardo and his wonderful family. We definitely won't forget our short time with them in a hurry."
John: "No, we won't. After seeing all the love and care that Bernardo puts into growing his coffee beans, I am both excited and a bit nervous about tasting the finished product. I want so desperately to support Bernardo's farm and the Cooperative."
Colin: "Taste is just as important to us as the provenance of our coffee. If Bernardo's beans aren't of a high enough standard, then we may have to go with a different batch at the Mill. Hopefully, it won't come to that though."
John: "Yes, let's think positive thoughts!  Right, it's time we packed our bags and headed back down the mountain to the Agroeco Mill. Where, with a bit of luck, we'll get to taste our perfect Colombian cup of CRU to bring home to you guys. And we can't wait!
Neither can we. What an amazing insight into the life of Bernardo and his family! It has truly made us take a moment to consider the hard work that goes into making what many people think of as just a simple cup of coffee. It's stories like Bernardo's that reinforce our commitment to Fairtrade coffee and inspire everyone here at CRU HQ to continually pursue our ethical values.
We can't wait for our next update from John and Colin, where we hope to hear the news we've all been waiting for - a new CRU Kafe blend! In the meantime, if you'd like to discover more about John's coffee flour muffins, then he's sent over his recipe for you to try! You can find it here.
If you'd like to follow the rest of their coffee adventures so far, then be sure to visit our Explore Colombia page.