The Great British Bake Off is back and someone who you may have glimpsed, perhaps unknowingly, is Eric Lanlard (he features in the eBay advert #FillYourCartWithColour using a Kitchen Aid). Eric is one of the best pâtissiers in the world, having worked as head pastry for chef for Albert and Michel Roux. He now runs Cake Boy, a destination café, cake emporium and cookery school in London.
First off, tell us a bit about ​you...
My Name is Eric Lanlard. I am a French Pâtissier originally from Brittany. I love baking, good food, travelling and art. I am a social media whore!
What's your coffee routine? ​
Being a pastry chef I work 6 days a week, starting very early with no time for breakfast. Each morning my mission is to get everything baked and ready for the shop opening at 7.30am. Apart from the polite 'Hello' not a word is spoken in the kitchen until service is done. After that, the front of house will serve us our first coffee. There are 3 of us in the kitchen and obviously we all take our coffee differently just because we can! After the first sip I will then be able to engage in conversation, the atmosphere becomes more relaxed, and then we are ready for our daily routine. I call my first coffee my 'French Breakfast' as I take a strong, long Americano. I only eat breakfast when on holiday or at home on Sunday.
The best cup of coffee you've ever tasted? ​Where and what was it?
My best coffee experience ever was in Rome when on holiday - a small coffee shop with an in-house roaster which is open until 2am. Usually, I will never drink an espresso in the evening, but I found myself drinking the creamiest espressos until closing time with all the locals, including a bunch of Catholic priests and nuns… I felt like a part of a Fellini movie as I was the only tourist there. No need to say I slept like a baby after... but that was undoubtedly due to the number of grappa we were drinking on the side too!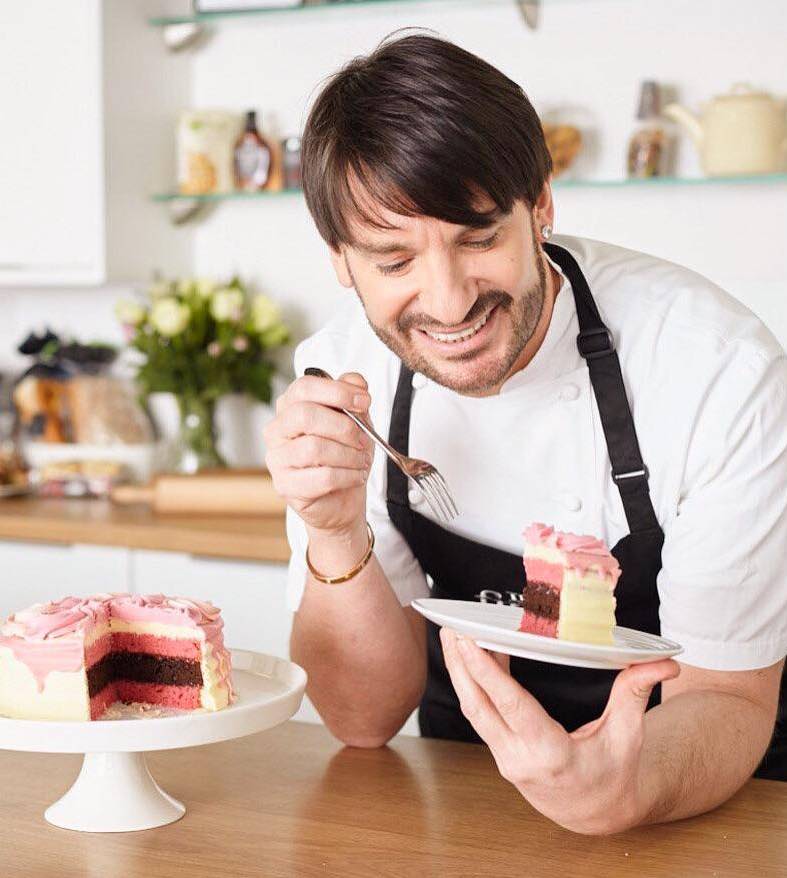 Where's your favourite place to drink your coffee?​
I love drinking coffee at home on a Sunday morning as it's my only morning off. I catch up with recorded TV shows, listen to music or read the papers whilst lying on the sofa. I am lucky to have a great coffee machine at home so I am completely spoiled. I use the same beans we use at Cake Boy - the aroma and taste is delicious and familiar. Another important part of my Sunday is making decisions for the following week - from online shopping, discussing holidays or anything business related, all over coffee. This is the only time I use my traditional French bowl instead of a mug or cup… it gives me a very comforting feeling.
Do you have a coffee memory that stands out?  
My Mum and my Grandmother were great hostess and still throw the best dinner parties. My Grandmother has a beautiful syphon vacuum coffee maker which she will only use for big family occasion. It was part of the dramatics of every lunch or dinner party. I remember every time it was a proper mission to put it together and then silence, until the magic started. Imagine us as kids... it was like alchemy happening in front of us at the table...
I use to deeply inhale the aroma as we were obviously not allowed to drink it. Even now, sometimes my mum will pass me a sugar cube soaked with coffee as a secret little treat. It's funny how theses machine are now back in fashion… Fondue next?
Everybody in Brittany had an electric cafetiere on the go, so every single kitchen or house smelt of coffee and, for me, today, it is the most welcoming scent. Even if sometimes that coffee tasted like tarmac after so many hours on a hot plate. Still, my mum has now been converted to CRU Kafe at the sweet age of 77 and the electric cafetiere has disappeared.
Eric runs baking classes from his café & school where you can learn to make extraoridnarily fine desserts and cakes. You can follow Eric on instagram @eric_lanlard to see his glorious creations!
---
Enjoyed Eric's interview? There are plenty more!