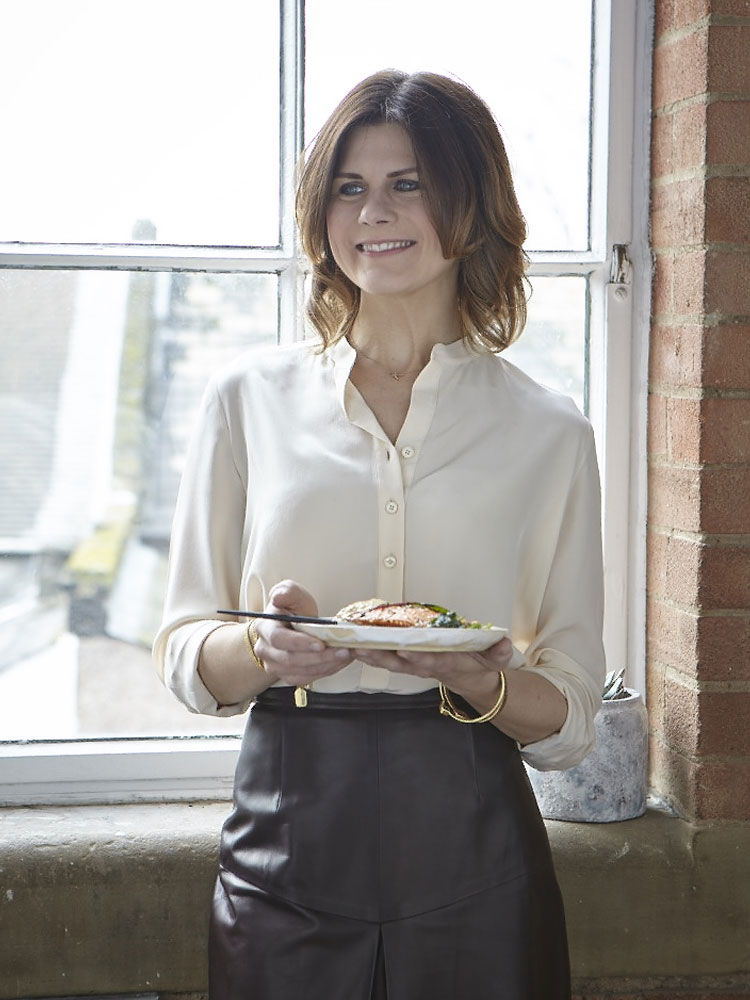 When it comes to coffee, I am more than willing to do that little bit extra to make sure that my brew tastes as delicious as it possibly can. This means using the best equipment, the most beautiful cups, and, if I'm having my coffee white, pairing it with the best milk around. However, in the past few years many people have chosen to switch from cow's milk to other dairy alternatives. There a lot of conflicting information around this topic and it can be a lot to digest. So, I asked my good friend, Eve Kalinik (pictured), to help answer my questions and relay her expert advice on dairy alternative drinks. Eve is a registered member of the British Association for Applied Nutrition and Nutritional Therapy and the Complementary & Natural Healthcare Council.
What are the problems with dairy milk and why do people want to avoid it?
I think the first thing to realise is that there isn't generally a problem for most people when they consume dairy milk in moderation. However it just requires being a bit more discerning in the type of milk you are buying. Ideally that means raw, unpasteurised and unhomogenised milk, without the fat removed. Pasteurisation is a process used to kill off bacteria and in doing so also damages enzymes and the naturally occurring probiotics so one could argue that this could be one of the reasons why someone might experience digestive issues when drinking milk. You can buy raw milk from farmers markets. If not then organic full fat unhomogenised is the next best option which is available from many supermarkets.  All that being said, there is a very small percentage of people that have been diagnosed as lactose intolerant and so must avoid milk completely or if you have a milk allergy then of course its a no go. But then there are others who make an ethical dietary choice, like being vegan.
What is the best dairy alternative drink from a health and wellbeing point of view?
Best is to make it yourself if you can. Making nut milks from scratch with nuts that have been soaked and rinsed with filtered water is a good option. For off the shelf alternatives, I'd recommend PLENISH who do a great range with minimal ingredients. Avoid the ones that have lots of ingredients, emulsifiers and so forth. And just rotate these dairy free options too. Often we assume we have intolerances to many foods (including dairy) when its really just a case of "too much of a good thing".
Which options on the high street would you recommend?
I generally look for the ones with minimal ingredients when I'm buying dairy free. If you start to see long lists and words you cannot pronounce, put it back on the shelf. With nut milks, look for a minimum of 7-8% nut content.
What is your view on milk that has been altered to make it lactose-free?
It's virtually impossible to make milk lactose-free and usually these kinds of milk contain added enzymes to make them more "digestive friendly". Frankly, it comes back to my earlier point: buy your milk as unprocessed as you can. The vast majority of people who do this don't have any issues. At the end of the day, lactose-free milk has been processed. If you do have lactose intolerance then stick with nut based or coconut milks. 
Should we all limit our dairy intake, even if we aren't lactose intolerant - could we give ourselves intolerances by cutting out food groups such as dairy?
Good sources of dairy are exceptionally nutritious. That means raw milk, raw cream and unpasteurised cheese. These all provide tonnes of beneficial bacteria for the gut and immunoglobulins for our immune system. But too much of a good thing isn't advisable, so just don't overdo it with any food.
Do we need to supplement our calcium intake through other sources such as dark leafy veg?
If you are removing dairy then it is important to be mindful of taking in non-dairy sources of calcium which include dark leafy veg, almonds, non GMO tempeh, tahini and white beans.
Should children still have dairy milk?
I believe everyone should have the right type of dairy milk as per the above unless you have a genuine intolerance or allergy.
You recommend drinking unpasteurised and non-homogenized milk. Could you tell us a little bit more about this: what the benefits are? Where can we buy raw milk? How safe it is to drink?
Raw milk comes from grass-fed cows, it's unpasteurised, and unhomogenised. Pasteurisation, the heat-treating method used to kill potentially pathogenic bacteria, destroys enzymes such as lactase that is needed to break down the protein lactose found in milk. This means that the body doesn't necessarily have the "tools" to break it down efficiently and this can lead to digestive symptoms. 
Homogenisation is a process of high pressure to break the fat component of milk into smaller particles to get a more uniform consistency throughout. Some argue that this can alter the way these reconfigured particles then act in the body, even causing inflammatory knock on effects and digestive difficulties.
Raw unpasteurised, unhomogenised milk in comparison contains all its own natural enzymes and beneficial bacteria. This means that it tends to be better tolerated for most people. The choice to drink raw milk can leave people divided but from a taste and overall nutrition perspective its my preferred choice.
You can find raw milk in farmers markets or direct from farms. Check out this link to find your local producer here.